A History of St James'
The first thing you will notice about the building is that it is not on the usual east / west orientation you'd expect for a church. This is because the building was first a school. It is one of the oldest buildings in the village and is Grade II listed because of its historic interest. In 1814, the Duke of Beaufort, the local landowner, donated the land and paid for the construction of the school building. It opened in 1815, and John Davies, who had previously been a solicitor's clerk, a weaver, a shopkeeper, a rag and bone man, and a teacher at a school in Usk, was appointed to be the schoolmaster at the age of 50. This building was the first national school (that is, free and open to all children in the area) in all of Wales. The church was not only the schoolroom but also James Davies' home. He was a very pious man, and led a very frugal life so that he could give money to the causes he believed in. He paid for the renovations of Kilgwrrwg church, which had been used as a sheep-pen, but not many people from the Devauden area wanted to go there for Divine Service. So James Davies then started to save up, and raise funds for a new school building, and the conversion of the existing school into a church. He paid the £45 that it cost to add the chancel to the school from his own pocket (his annual salary was only £20), and the first service was held here in 1829. It took until 1838 before enough funds had been raised to endow the church (that is, make it a permanently maintained church).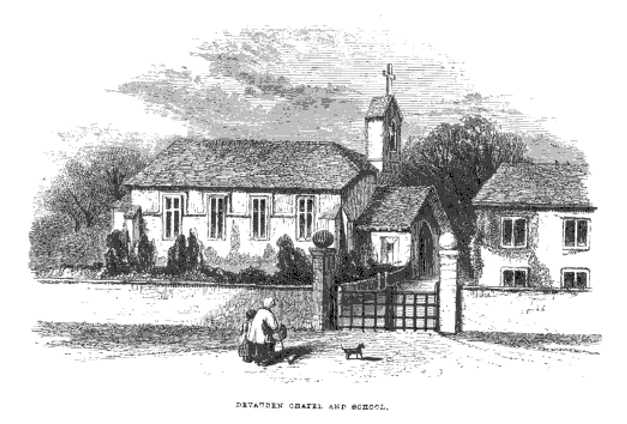 An artistic impression of the church in the 1830s
The Building Repairs…
Every five years, churches are inspected by an architect and the PCC (Parochial Church Council – effectively the Church Committee) are given a report of the renovations and improvements required to the building. Our most recent inspection in 2019 noted that the roof needs extensive repairs, the porch needs completely re-roofing, the windows need repairing and the woodwork needs attention. We also have a problem with rising and penetrating damp… The PCC are actively seeking grants to enable these repairs (which total up to just under £155,000) and some improvements to take place. We have had some success, with grants from CADW, The Garfield Weston Foundation, The Oakdale Trust and more, totalling £76,500, but we are putting in grant applications to other organisations. If you would like more information on how things are progressing, or want to help, please contact us via email – fosjdevauden@gmail.com, or pick up a leaflet about the Friends of St James Devauden when you are next in church.