St Andoenus, Mounton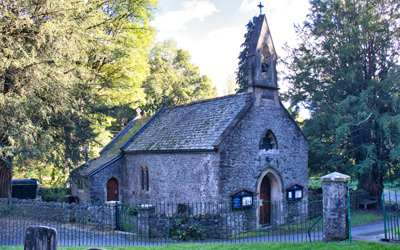 Mouton is a hamlet in Monmouthshire, south east Wales, located two miles west of Chepstow in a rural setting. The parish was originally part of the holdings of Chepstow Priory, with the name Monkton. St Andoenus Church, Mounton is located between the lane and a wooded cliff on the south side of Mounton, within the Wye Valley Area of Outstanding Natural Beauty.
The church has disabled access but there are no toilets.
Services
First Sunday of the Month: 10.15am - Book of Common Prayer Eucharist (CiW 1984)
Second Sunday of the Month: 10.15am - Book of Common Prayer Eucharist (CiW 1984)
Third Sunday of the Month: 10.15am - Book of Common Prayer Eucharist (CiW 1984)
Fourth Sunday of the Month: 10.15am - Book of Common Prayer Eucharist (CiW 1984)
Fifth Sunday of the Month: Alternates between Shirenewton, St. Pierre, Mounton & Mathern - see noticeboards
Services may also be held on key Feast Days & during Holy Week