St Mary, Penterry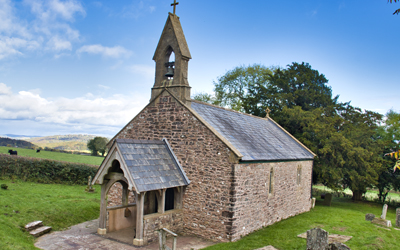 St Mary's Church is within the parish of St Arvans. The church is set in a field on a high ridge above the Wye Valley, on a very popular walking route. It is believed to have once served a community probably wiped out by the plague. The church was first mentioned in a charter in 955 AD. By the 13th century part of the parish had become a grange (outlying landholding) of Tintern Abbey. In some documents the grange is described as a Secular Firmary, suggesting that it either housed or maintained a hospital for local people. The present church was largely rebuilt in the mid-19th century, but it retains two mediaeval windows and the base of a stone cross.
In 2001 a committee was formed to save the building and restore regular services. Find out more about the church and its restoration at www.penterry.org.uk.
Services
Services are in the Catholic tradition, with a said Eucharist and hymns on the 1st Sunday each month. A candlelit Festival of Nine lessons and Carols is held in the church every Christmas Eve. This has become so popular numbers have had to be limited by ticket. Harvest Service and Parish Picnic are also well attended.
No disabled access or toilet. The church has no electricity, and access is via a footpath across a field.
First Sunday of the Month: 11.30am - Said Eucharist (2004) with Hymns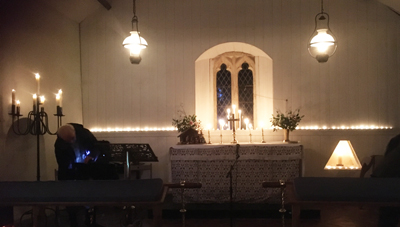 Penterry at Christmas